Are you

looking for Interlayers to laminate Ballistic or High Resistant to Impact Glass

Structures?
We can offer TPU lamination Films to laminate Glass-Glass with PC. For the Glass Industry, we can offer you a wide range of Products that we commercialise under the name of NovoGlass®SF Optical Films.
We will adapt to your needs, we can tailor-made your requirements in terms of widths and thicknesses. If you need something special, just l
et us know your specific requirements.
To have a brief view of what you can do collaborating with us, please click here to get our brief Introduction Brochure
Are you

looking for Edge Seal Tape to laminate Ballistic or High Resistant to Impact Glass

Structures?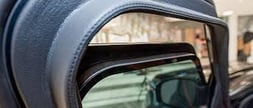 In NovoGenio we can offer our Edge Seal Tapes (black or transparent) to close the edges of your laminated glass structures. The name of these Products are NovoGlass®ES1933 for black version or NovoGlass®ES1937 for transparent one. You can check out here a Video of how to apply those in versatile manners as with or without logo or engraving
Are you interested in more details about our Products? Please, go to Our Expertise pages!
If you are concerned about how the temperature can affect the resistance of your security laminates, or how you can manage the impact energy, you might find some interesting information in Our Expertise pages. You are welcome to visit them. There you will find our insights, our comments and suggestions about Security Glass topics. So, please do not hesitate to visit them. You are mostly welcome!
Are you interested to develop new Glass laminated Products?. We can help you, if you are interested in the following: